Beach Access Mat – polyester roll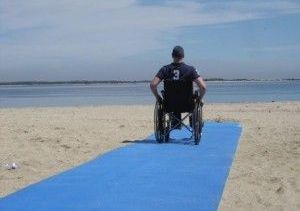 AccessMat is a portable and removable rollout access route that can be used in a multitude of applications for individuals of all abilities (pedestrians and wheelchairs access), as well as strollers, and more particularly in beach environments.
Visually attractive, the blue color of the AccessMat provides a surface that is highly visible, delineating the route to access recreation areas for people with visual impairments, while the brown color perfectly blends into the landscape.

AccessMat can be offered in 1.5m or 1.8m widths by 10m, 15m, 22.5m or 30m lengths and is available in blue or brown color.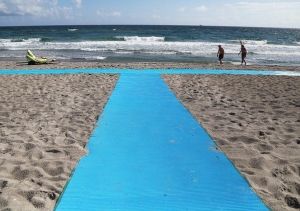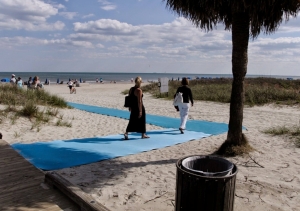 Developed specifically for pedestrian traffic, AccessMat provides the friendliest surface for barefoot beach goers. Wherever an enhanced grip walkway access is required AccessMat Beach Access Mat is the solution. AccessMat polyester material provides the safest edges that do not require secondary finishing. This reduces the risk of injury to bare feet or cutting your hands when installing or removing AccessMat. Our AccessMat's cool surface lends to the barefoot users' comfort, especially on those hot, sunny days.
The durability of construction and portability of the product make it the perfect solution for providing accessible beach pathways. Utilising the benefits of polyester ensures that rigidity and strength are preserved over soft sand surfaces, while the polyester material is able to contour to undulating surfaces. AccessMat can easily be carried by 1-2 people and at the end of the season or when no longer required simply roll up your AccessMat and store it until its required next. AccessMat comes with a 24 month warranty.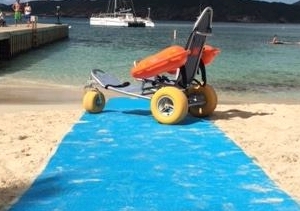 Environmentally friendly and Recyclable
This environmentally friendly product is easily installed and removed per environmental regulations. The mat is also able to be cut and formed around existing beach structures, in addition to protected native beach dunes. The UV stabilised polyester material is recyclable after use reducing its environmental impact.
Quick Installation and Maintenance
AccessMat Beach Access Mat is available in roll form allowing for a quick roll and pin installation. Its lightweight design allows for ease of installation. Simply unroll your mat and stake it down using our oversized metal or plastic stakes. When you have finished AccessMat can easily be removed as its structure does not allow sand to get stuck under it. Two people can install a 1.5m x 30m section in just 10 minutes. Minimal maintenance – it can be cleaned by use of a broom, blower, or pressure washer – sand goes through the permeable structure of the mat and does not get stuck under the surface of the mat.